To say it upfront: Playing tournaments in France is great, once you are "in the system". But before that, quite a bit of bureaucracy has to be managed. We do the complete admin part for you.
Some general facts about tournaments in France.
In France, clubs organize around 12,000 tournaments every year. A crucial role in this is played by the system based on classements. It means, that every player is seeded into the tournament draw according to playing ability. Weaker players begin the tournament, stronger players join later. The winner of the matches advance to the next rounds and can likewise advance in their classement.
Every match counts for a players classement – and also for your UTR!
In a simplified way: Theoretically, a beginner can reach the final against the professional player. However, s/he starts three weeks earlier and has to qualify by winning many matches. And everybody initially gets opponents of similar ability – independent of what ability may be.
Every match counts by the way for the evaluation of someone's classement.
An explanatory note may be in order here: Please take a look at the first few hundred players in the world ranking. You will notice that there are many French players, both women and men. The system works, it bears impressive fruits.
The French classement system exists for nearly a century, it has a great tradition.
The French Classement system has a great tradition of nearly a century. At the same time, the tournament is a larger social event, especially in villages. With surprise, German Bezirksliga players noted that they were playing in front of a significant audience, with line judges and the local mayor of the village as chair mayor.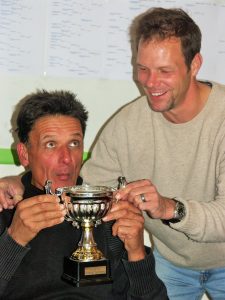 Get additional information via www.fft.fr(the official homepage of the French Tennis Federation).
Do you have questions whether this is the right offer for you? Then feel free to contact us
-per telephone at 0049 172/ 6487050 (Mr Hartmann)